Our Bonus System
We love to give our players more and our incredible bonuses are guaranteed to boost your fun when you play at Cyberbingo. With fantastic match bonuses available on every deposit, special promotional bonuses, and chat game bonuses, you're guaranteed more bang for your buck when you play at Cyberbingo.
My Bonuses
When you select a bonus, you will be informed by a message within your player profile that it has been granted to your player account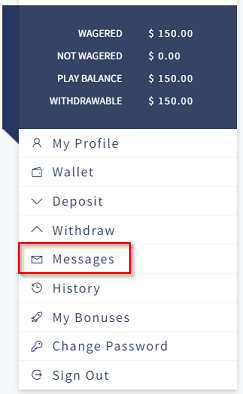 From here you can view all messages that have been sent to you in regard to bonuses and any other direct communication from our other departments.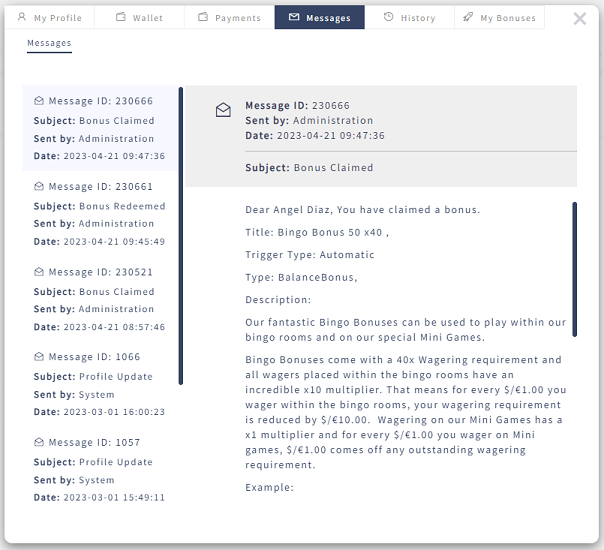 To view all bonuses that have been credited to your player account, click on the MY BONUSES tab.

Now click on the bonus to see full details.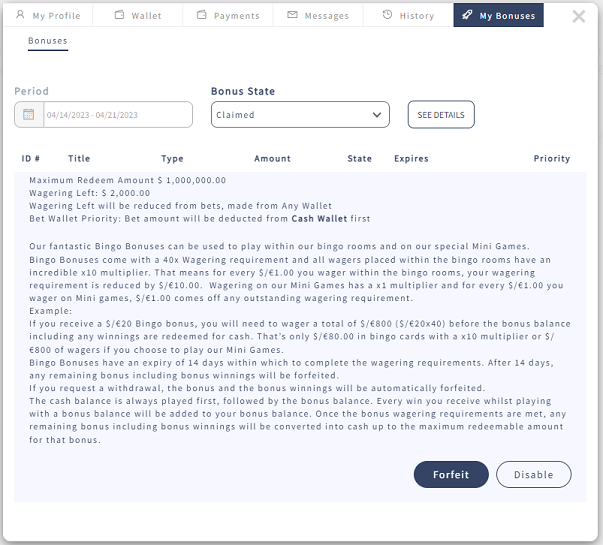 If you wish to accept the bonus, you must now click on the Claim button.
To view all your claimed bonuses, change the bonus state to Claimed and click see details.

Now you will see all the available bonuses to play on your account.
How do Bonuses Work?
With our bonus system, we put you firmly in control and allow you to play through one bonus at a time, in any order you wish. This means that you can work off the wagering requirements for whichever bonus you wish to redeem. The bonus shown at the top of your bonus list will always be the active bonus. This bonus balance will be available to see, and any games played will contribute to meeting the wagering requirements.You can switch to a different bonus at any time by changing the priority order from within your account. To do this, simply click on the bonus that you wish to play, and drag it to the top of the list of bonuses. Once it is at the top of the list, you will be playing any bonus associated with that bonus and all wagering will be reflected against this bonus too.Your cash balance will always show, but any active bonus balance will only show when you are playing a game where the bonus can be played. For example, a Bingo balance will not show or be available to play when you select slots and a slots bonus will not show or be available to play within a bingo room.
Where are my winnings?
When playing using a bonus balance, any winnings derived from playing that balance will show on your account as bonus balance until the wagering requirements are met. Once you complete the wagering for the specified bonus, any remaining bonus balance will be converted to cash balance up to the maximum cash out value associated with that bonus.