Fantastic VIP Rewards
CyberBingo has been home to the Best in Online Bingo Fun since 1996, bringing our players exiting promotions, fun-filled Bingo Rooms, and fabulous Funding Bonuses every day of the week! We provide our players with the BEST Bingo games, the BIGGEST Cash Prizes, and amazing entertainment every hour of the day, 365 days a year. Our players are at the heart of everything that we do, and our VIP Program is just one of the many ways that CyberBingo shows its appreciation.
We love to reward our loyal members by offering fantastic rewards that are guaranteed to increase players' fun, excitement, and chances to win BIG. So beginning December 1st, our new Loyalty / VIP Program will be launching. Our Loyalty Program will be based on five Bingo tiers (Bingo Balls): Blue, Red, Purple, Green and Yellow - with Purple, Green and Yellow being our VIP tiers. A player's tier is based on their play pattern over the previous 30 days. This ensures that our players are automatically added to the VIP program as soon as it is achieved and will gain promotion to a higher VIP tier as soon as it is reached.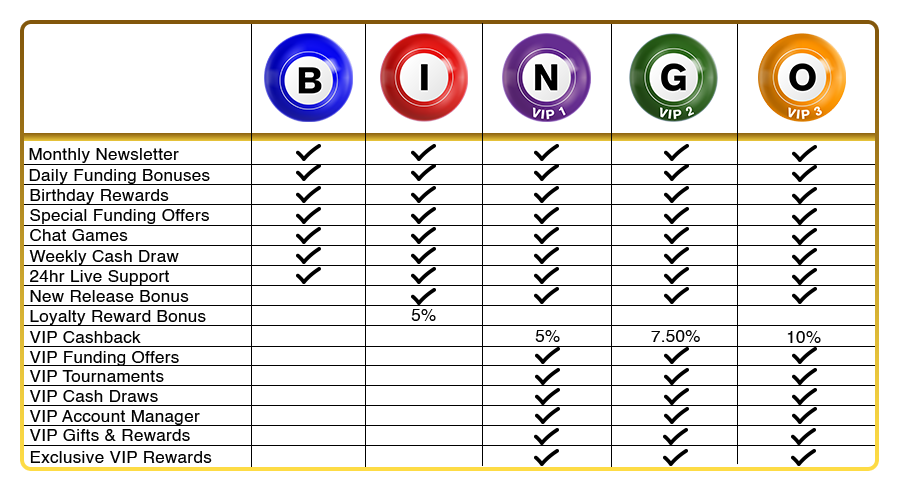 Each tier achieved opens additional and greater benefits as our members progress through each tier. All VIP members gain entry to the following VIP exclusive promotions:
VIP Monthly Cashback
VIP Slots Tournament
VIP Bingo Tournament
VIP Weekly Cash Draws
VIP Exclusive Bingo Room
Qualifying as a VIP Member
Our VIP Program rewards players based on their funding activity over the previous 30 days and takes a value from "total deposits" less total "approved payouts" for the period. Players are assigned to their respective VIP tier immediately upon reaching the next tier and do not need to wait until the end of the month for a special invite. We do not penalize our loyal VIP members for winning big and cashing out, but determine VIP tiers based on all data collected throughout the previous month. VIP members will not be removed from the VIP program or demoted to a lower tier, just for cashing out their winnings.
Loyalty and VIP Tiers are based on "total deposits" less total "approved payouts" over the previous 30 days.
 •Blue: $/€25 - $/€499
 •Red: $/€500 - $/€999
 •Purple (VIP 1): $/€1,000 - $/€2,499
 •Green (VIP 2): $/€2,500 - $/€4,999
 •Yellow (VIP 3): $/€5,000+
Progression to a higher tier is automatically calculated and players are promoted to the next tier immediately, allowing them access to bigger and better VIP rewards.
VIP Funding Offers
Our VIP members receive all the regular funding offers on site with additional VIP funding offers. Check out the special funding promotions every month and you'll discover additional bonuses just for our VIP members. The higher your VIP tier, the BIGGER the bonus!
VIP Manager
All VIP members have a dedicated VIP Manager - Kelli, who is committed to ensuring that all of our VIP members have an exceptional and rewarding gaming experience filled with fun and excitement. Kelli can be reached by email at [email protected] and is available to assist you and answer any questions that you may have.
Kelli also loves to reward our VIP members with exclusive perks throughout the month - from Free Chip rewards to special holiday and Birthday gifts, and everything in between! With exclusive offers and Free Bonuses to try out our new releases, our VIP members are always rewarded in the best possible way.
Terms & Conditions:
 • Players must meet the qualifying criteria as set out on this page to be granted VIP status.
 • VIP status is based on a player's total deposits less approved payouts over the previous 30 days.
 • Players who no longer qualify for the VIP Program will be removed on the 1st of each month.
 • Gifts and other perks are awarded to VIP members at the discretion of CyberBingo.
 • Players may be invited to the VIP Program, have their VIP level upgraded, or be removed at the VIP Manager's discretion.