Vol.11, No.32, August 9 - August 16, 2013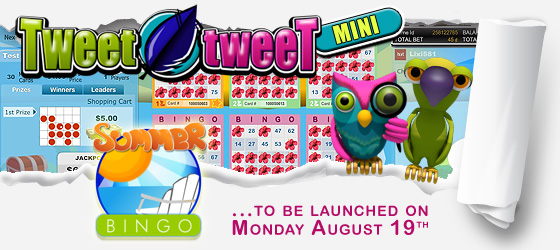 Everyone's favorite birds from Tweet Tweet can now be found on a smaller scale- a Mini Game! Enjoy playing Mini Tweet Tweet, nothing has changed and you can play the game just the same. Also be prepared for our NEW Summer Bingo Room to be launched on Monday August 19th. The room not only has a new look but is fused with newer technology and functionality that isn't offered on any other bingo site!

Join us on Tuesday August 13th from 8am - 12am ET and play Lucky 13 also, don't forget every THURSDAY for the entire month of August in the Classic Room we're playing Bingo or NO Bingo... Read More.

The early bird catches the worm, so make sure you come on over to the Classic Room every morning from 8am - 12pm ET for our High or Low $50/$25 Breakfast Treat!

Get a massive 200% Bonus as soon as you deposit $100 or more every Wednesday and Saturday. Bonus offers are only valid for players who have made 3 or more deposits since the date of registration. No exceptions or extensions can be granted.

Summer Bingo Room
Classic Room
Bingo 90 Room
Tourney Room
$6,714
$4,273
$1,402
$12,741
Pack & Line Room
USA Bingo Room
Diamond Bingo Room
Bingo Freeroll
$174
$12,824
$12,903
$12,901
Jackpot Video Slots
$34,453